Add Comment |
Related Links |
TrackBack

Related Content
Voodoo Dool
Voodoo Dool always had the same dream every night. He dreamt of the night he came to live on Pongo Island. He was in a wooden box with many others, exactly like him: black button eyes, stitch made mouth, and soft white body. One night, Voodoo Dool and his buddies decided to break out of the crate and see what life outside the box was like. After breaking out, they came to find that life inside was much safer.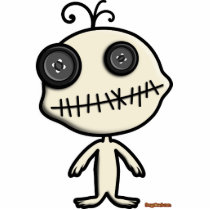 They were on a big ship and there was a storm causing big waves that the ship was having trouble handling. Before he knew it, the ship capsized and he was floating away, on a plank, from his friends. That's when he wakes up in bed and is very thankful that the others on Pongo Island gave him a place to live.
Voodoo Dool doesn't mind the mouth made of stitches much because he is very shy and doesn't talk much. He loves his mismatched button eyes, he thinks they give him character.

He has dedicated his life to searching for his long lost buddies. Voodoo Dool is convinced that some of them had to have washed up on Pongo Island, he just has to find them.
When Voodoo Dool isn't looking for his friends, he makes boats out of coconuts, which just happen to be his favorite fruit.
Molly
Mon, 24 May 2010 01:14:20 -0700
Add Comment |
Related Links |
TrackBack

Related Content
Did your message disappear? Read the Forums FAQ.
Spam Control | * indicates required field
TrackBack only accepted from WebSite-X Suite web sites. Do not submit TrackBacks from other sites.
Send Ping | TrackBack URL | Spam Control
No TrackBacks yet. TrackBack can be used to link this thread to your weblog, or link your weblog to this thread. In addition, TrackBack can be used as a form of remote commenting. Rather than posting the comment directly on this thread, you can posts it on your own weblog. Then have your weblog sends a TrackBack ping to the TrackBack URL, so that your post would show up here.
Messages, files, and images copyright by respective owners.